Our Recipes, Try them All!
Recipes in Hawaii are all about simplicity. Here you will find local Hawaii favorites and a few out-of-the-'local' box recipes that are interesting and fun to make and eat.  Enjoy trying them all!
Loco Moco
This classic Hawaiian Favorite can be found all over the Islands and can be served for any meal. This well rounded dish will keep your family fueled all day.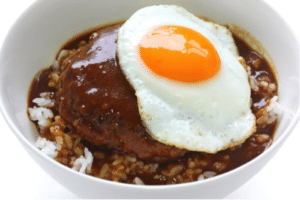 Ingredients:
Cooked Rice
3 1/2 cups chicken broth
Burger Patties:
1 pound ground beef
1/4 cup diced onion
Salt and freshly ground black pepperOil
Gravy:
1 tablespoon butter
1/4 cup chopped mushrooms
1/4 cup diced onion
1 1/2 cups beef broth
1 teaspoon Worcestershire sauce
1 tablespoon cornstarch
Eggs:
Butter
4 large Hawaiian Maid or Ka Lei eggs
3 tablespoons chopped fresh parsley (optional for garnish)
Directions:
To make the Burgers: Mix the ground beef, onions and salt and pepper in a large mixing bowl. Form 4 medium patties and set aside. Add a few drizzles of canola oil in cast iron pan over high heat. Cook until well browned 3- 4 minutes. Cover pan to seal in the moisture. Flip patties and cook about 3-5 minutes more until desired doneness. Remove burgers and keep warm.
To Make Gravy: Add the butter to the pan with the drippings. Sauté the onions and mushrooms until golden brown, approximately 5 minutes. Pour in the beef broth and Worcestershire sauce. Bring contents to a boil and reduce the liquid down about 2-3 minutes. In a small bowl mix cornstarch with 2 tablespoons water to make a smooth paste. Slowly whisk into the gravy, until thickened. Season to taste with salt and pepper. Keep warm until ready to use.
To Make the Eggs: Add some butter to a nonstick pan over medium heat. Crack in the eggs and cook yellow side up, 3 to 4 minutes. You can also flip and cook on both sides if you prefer. Remove and keep warm.
To serve: Spoon rice on a plate, place the burgers on top, pour gravy over the top,  finally, the fresh Hawaiian eggs.  Garnish with parsley if desired.

Fried Rice
This spin on fried rice is a different take on a traditional, local favorite. It's easy to make variations of this by changing the nuts or types of veggies you use. From a time perspective, it's really quick using leftover rice.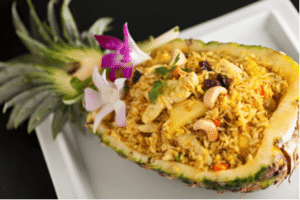 Ingredients:
1 cup of long grain rice
1 cup of canned coconut milk
1/2 cup fresh pineapple juice
1/2 cup water
4 tablespoons coconut oil
1 chopped red bell pepper
1/2 chopped sweet onion
2 minced garlic cloves
1/2 teaspoon freshly grated ginger
2 cups cubed fresh or canned pineapple
2 large Hawaiian Maid or Ka Lei eggs, beaten slightly
1 1/2 tablespoons soy sauce
4 green onions, thinly sliced
1/2 cup chopped mixed with whole cashews
Directions:
In a large saucepan, add rice, coconut milk, juice and water. Bring to a boil, then reduce to low until rice is tender all liquid is absorbed (about 20 minutes). Set aside.
Melt 1 tablespoons of coconut oil over medium-high heat in a wok or large skillet pan. Add in onions and peppers and stir for about 2-3 minutes, until slightly soft. Next add garlic and ginger, stirring for about 1 minute. Remove vegetables and set aside in a bowl. Over medium high heat add another tablespoon of coconut oil and add pineapple. Stir and cook until golden brown (about 5 minutes). Add to the bowl of vegetables.
Add 1/2 tablespoons of coconut oil to the pan and add slightly beaten Hawaiian fresh eggs, quickly stirring the entire time they cook. Break them into bite size pieces and set aside in a spate bowl.
Over heat high add 2 tablespoons coconut oil to pan. Add the rice, tossing to coat, and then let sit for 1-2 minutes until crisp and golden. Stir and repeat for another 1-2 minutes. Repeat another 1-2 times.
Turn heat to low and stir in soy sauce. Add the vegetables and pineapple. Stir in the green onions and cashews. Season additionally if desired. Serve immediately. Enjoy.

Island Quiche
Serve with a crisp salad and you have the perfect, nutritious meal. All made with your favorite delicious Hawaiian Maid and Ka Lei eggs.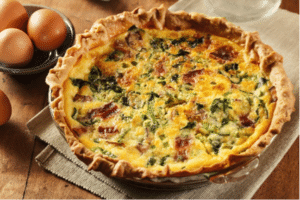 Ingredients:
1 pastry crust
1 package frozen chopped spinach
1 cup shredded cheddar cheese
1 cup chopped spam, Portuguese sausage or ham or ½ cup cooked chopped bacon
2 large onions, chopped and caramelized
4 Hawaiian Maid or Ka Lei eggs
1 cup whole milk or a combination of cream and milk
1/2 teaspoon salt
1/2 teaspoon ground pepper
Directions:
Preheat Oven to 350 degrees
Cook spinach, drain well and squeeze out the moisture so it does not drip.
Caramelize the chopped onions over medium heat in a tablespoon of butter until golden brown about 10 minutes.
Mix the cheese, onion, spinach and spam/sausage/ham/bacon and spread mixture into the prepared pastry crust.
Beat eggs, with milk/cream, salt and pepper and pour into prepared pastry crust filled with spinach filling.
Bake in oven. Check after 25 minutes for firmness. It may need another 5-10 minutes depending on your oven.

Andagi (Okinawan Doughnuts)
This is one of our family's favorite dessert. We remember as kids the sweet smell of these ono Andagi in the kitchen.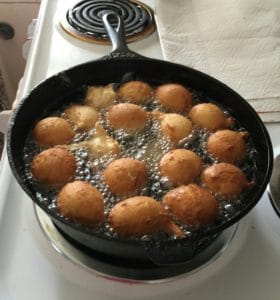 Ingredients:
4 Large Hawaiian Maid or Ka Lei eggs
3⁄4 cup milk
1 teaspoon vanilla
2 tablespoons vegetable oil
4 cups flour
1 3/4 cups sugar
3 1⁄2 tablespoons baking powder
1⁄4 teaspoon salt
Vegetable oil (for deep frying)
Directions:
Heat oil to 330 degrees in a deep fryer or deep skillet
Mix dry ingredients together in a large bowl.  Make a well.
In a small bowl, combine milk, vanilla, 2 tablespoons oil and enough water to make 1 cup of liquid
Beat eggs and add to wet mixture
Pour into well and fold in with your hands until mixture is barely moist.  Add more flour if necessary/preferred.
Drop batter into the hot oil with a tablespoon or ice cream scoop and fry until golden brown — about 8-10 minutes.
OR go Okinawan style!  Put a few drops of oil in a bowl of water.  Wet your hands.  Scoop batter in your hands.  Squeeze out the dough about the size of a golf ball.
Pierce Andagi with skewer.  It's done when it comes out clean.
These yummy Andagi are best served hot but are also delicious at room temperature!
Save
Save
Save
Save
Save
Save
Save
Save
Save
Save
Save
Save
Save
Save
Save
Save