Buy Local Hawaii Eggs; Help Your Community Stay Sustainable and Vibrant.

I've been reflecting a lot lately over our family's history of providing Island Fresh Eggs everyday to Hawaii for seven decades — 70 years. That's a lot of eggs! That's a lot of life energy and sweat put into ensuring that our fresh, nutritious high quality eggs get from our family to yours. Our family thanks you from the bottom of our heart for supporting  local  farmers and for buying our local Hawaiian Maid and Ka Lei eggs.  Local farmers like us depend on your loyalty and dedication  so we can continue our cultural heritage of farming our precious agriculturally rich lands of Hawaii.
When you buy local agricultural products and local Hawaii eggs  you make a conscious decision and commitment to your  community and its sustainability. There are so many benefits ……. Here are just a few.

Exceptional Taste and Freshness
Produce picked and eaten closer to its peak of ripeness has exceptional flavor and, when handled properly, is packed with extra nutrients. Island fresh eggs offer superior taste, quality and freshness. Our eggs are hand gathered daily on our farm and are quickly put into refrigeration for optimal freshness.

Preserving Hawaii's Open Space and Farmland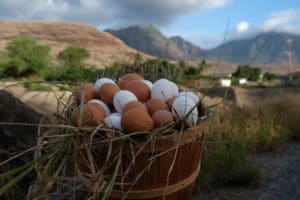 When you buy local it helps preserve open space and our local lifestyle. While supporting local farmers, buying local food also helps preserve green open space and farmland in our community. Agriculture makes our island more beautiful and diverse! Once open space is lost it's usually lost forever for future generations.
Keeping $$ in Our Community Rather than Sending Them Back to the Mainland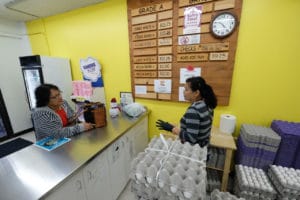 Buying local food keeps our dollars circulating in our community. Also, building relationships with the farmers who grow our food strengthens our ties to the community and the land. Our farm has been serving families and communities for over seven decades and three generations of egg farmers.
By choosing Hawaiian Maid and Ka Lei eggs, you help Hawaii and our local community stay sustainable and vibrant!
Mahalo for joining the "Buy Local" movement. Buy Local! It Matters!
To learn more about the Island Fresh, Buy Local It Matters program click here.
Save
Save
Save
Save
Save
Save
Save
Save
Save
Save
Save
Save
Save
Save
Save
Save
Save
Save
Save